The shoes that were founded in 1989 inside the home of a river raft guide as "geckos" have evolved into one of the leading brands of outdoor sandals and clothing today. For outdoor enthusiasts around the world this shoe has been the reason for many positive experiences and adventures without fail.
The Chaco brand seems to have it all figured out. They produce durable sandals which are compatible for most outdoor conditions with all different styles and colors to fit each individual. For those who enjoy to spend time in nature, they will surely enjoy the benefits that these versatile shoes have to offer.
They benefit as a sandal that can be worn and appreciated in any situation. In the mountains, in the water, on the beach, or even in the city. They have reliable tread and comfort for hiking in any terrain and the appearance of casual sandals for everyday wear. While wearing them out in urban and rural places alike they send the message, 'My life is always an adventure'.
Of course nothing is perfect and just like any other product, there are some features to be aware of and consider before this purchase. It is also important to have an understanding of how to purchase to get the most bang for your buck. Nevertheless, this is a great option for outdoorsmen and women looking for a new shoe to keep up with all of your fast paced lifestyles.
There are many features that this shoe has to offer that benefits all of its users:
Comfort
Good Tread
Arch Support
Customizability
Strong Community
Warranties and Repairs
Versatility
Made in the U.S.A
Comfort
There are stylish options for people of any gender, age and foot shape. With the choice between one and two straps that create a fitted Z across your feet, the feature of adjustability creates unlimited options for mobility.
If you need to prepare for a strenuous canyoneering trip on uneven ground it is possible to tightly secure your entire foot into place, while if you are lounging around a campfire you can loosen them almost to a point where it feels more like you are wearing slippers than a heavy duty hiking/water shoe. The open-toe allows your feet to breathe on hot summer days and does not create a cramped or constrained feeling.
Reliable Tread
Many people know the jolting feeling of reaching slick ground or steep declines and losing grip beneath your feet. It is frustrating and can turn an amazing day around in a mere second. With Chacos this is not a problem. The brand was created to create stability for your feet in and outside of the water. The thick gripping bottoms will help you stay up while walking on practically any surface.
Arch Support
Every human being has a different shaped foot and the brand designers for Chaco understand that. Each single style is recognized by the American Pediatric Medical Association which creates more reassurance than just one person's review. Because most customers purchase Chacos for more intense activity than the average day-to-day life, they are made to support people walking for long distances and on uneven ground.
Customizability
If the hundreds of color, fit and style options don't suit you, there is always the option to create your custom shoes on the official Chaco website. This feature allows you to choose between one of five shoe styles. Afterwards, you can choose any color or pattern for each of the five individual straps.
You are also able to customize the color of the soles and embroidery for your new shoes. There is a new line of patterns that include food like pizza and cookies! It is important to note that you are unable to customize children's sizes.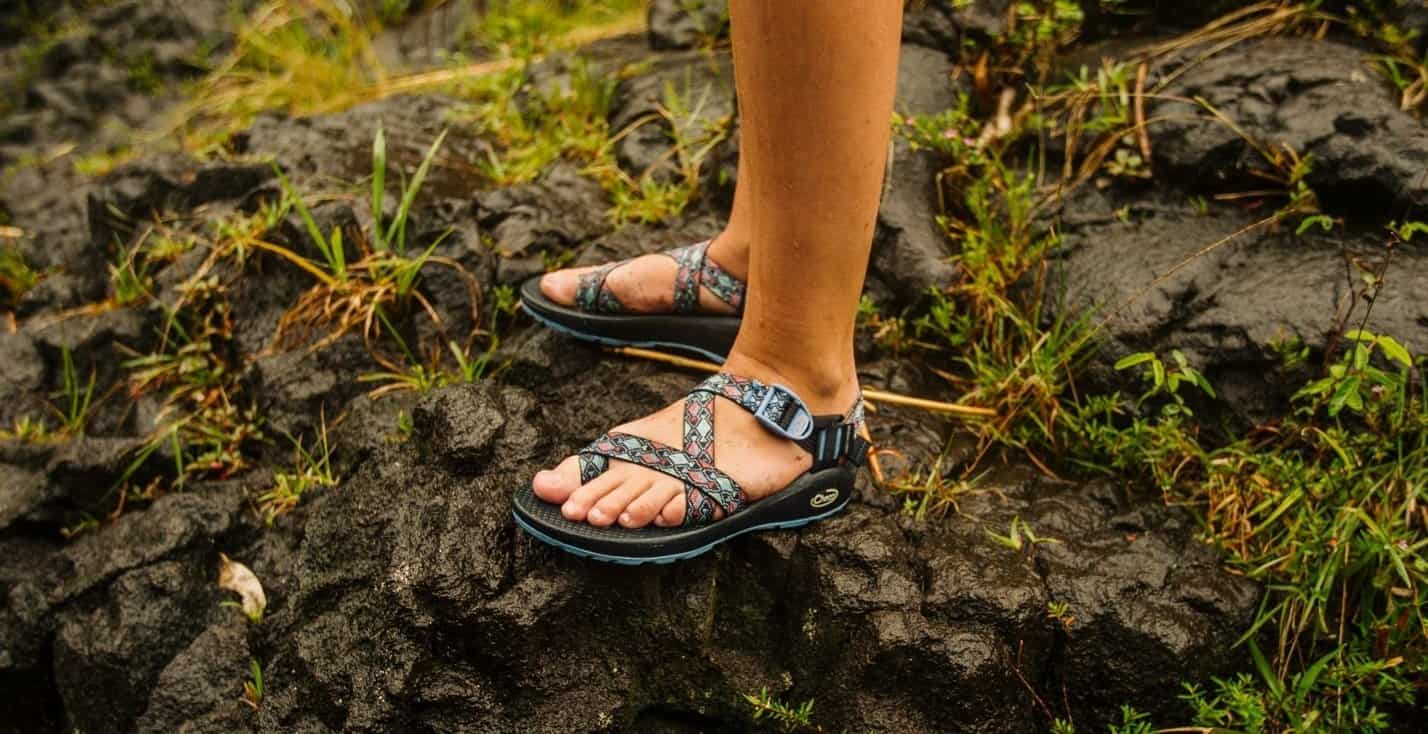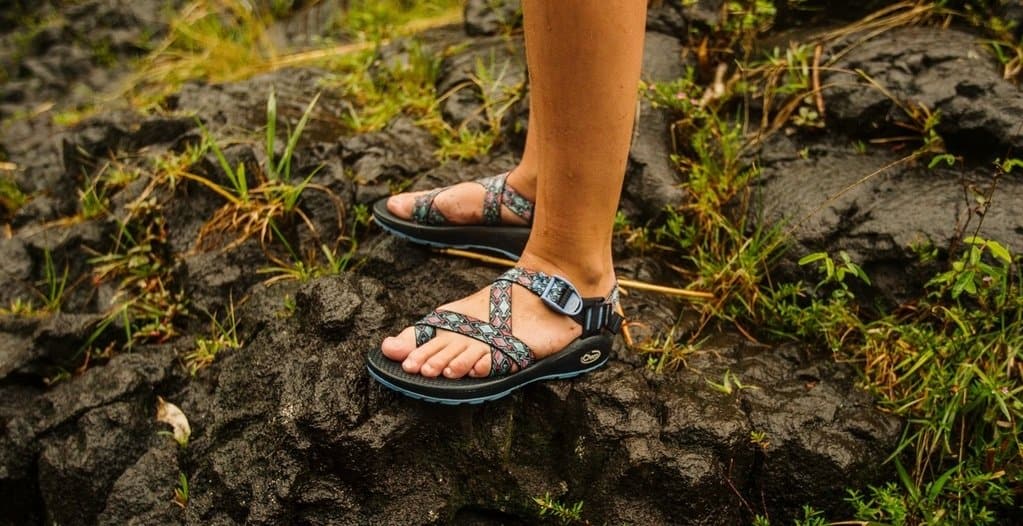 Community
The community of faithful Chaco users is strong, resilient and united. People swear by this shoe and some people do not seem to take off their shoes for years. It is an international group and of course being seen in Chaco's comes along with the stereotypes. The adventurers, the wild ones and of course the most fun! For more definite examples, check out #ChacoNation on any social media platform and see just how far these shoes and the people wearing them can surpass the limits.
Warranties and Repairs
Chaco understands that with more use comes more potential for wears and tears. This is not to say that they are not built to last, but for the occasional malfunction, the brand is open to taking responsibility. If there is a malfunction that does not have to do with fit or user misuse, there is a lifetime warranty. This means that the company will repair the shoe for free and cover all shipping costs.
Versatility
As mentioned above, the shoe is designed to be appropriate attire in most, if not all casual settings. They are designed to be used underwater, high in the mountains, deep in the desert, out to lunch, etc. Also, although advertised for warm weather, it is quite possible and easily doable to put on some wool socks underneath when it gets cold outside. These shoes really are a good fit for practically every situation imaginable.

Made in the United States
Of course people who choose to purchase Chacos probably enjoy spending time in the environment and want to protect it. The fact that the brand's factory is located in the same country as most of its customers means that they are choosing to prevent thousands of tons of carbon dioxide from entering the atmosphere. It also provides jobs for worthy Americans and creates a more wholesome community that is mentioned above.
For those of you who have been on edge about buying Chacos and have read all of the amazing benefits, it is also important to consider some of the possible downsides to the shoe:
Cost
Depending on your budget, other brands like Tevas or Keens may be more ideal. Chacos can cost anywhere between $50-$150 USD depending on where you are purchasing them from and the style you prefer. Because of the durability, it could be considered an investment and be your shoe of choice for years.
Wear
Most Chaco users who wear their shoes on a daily basis, almost religiously, choose to buy a pair for each summer season. After about 18 months of daily use camping, hiking, rafting on three different continents, I notice the tread of my shoes starting to lose tread and slip more often. Of course, I cannot expect the same pair of shoes to last forever, but again, it is a costly piece of equipment to replace.
Weight
When I first chose to buy Chacos I had spent previously summers barefoot or while on the river in Tevas. Compared, I felt like I was wearing bricks. It took about two weeks to get used to the clunky feel of the new shoes. Now though, it feels more like they are part of my body and it feels odder without them than with them.
After reading through the pros and cons, and have decided that you would like to dive into the new Chaco lifestyle, it is important to understand about different fits, sizes and purchasing options. If you have chosen you would like to keep your options open, again, Tevas and Keens have other outdoor lifestyle sandals that may interest you more.
There are a few key features to decide between when deciding on a fit of shoe. First off, almost all shoes create a Z across the top of the foot, which naturally is called the Z strap. There are two choices for your Z strap, one has one thick strap that works its way across the foot. The other, Zx breaks this strap into two narrow straps that run parallel to each other. If the pattern is of importance I would recommend the single wider strap so it is more noticeable.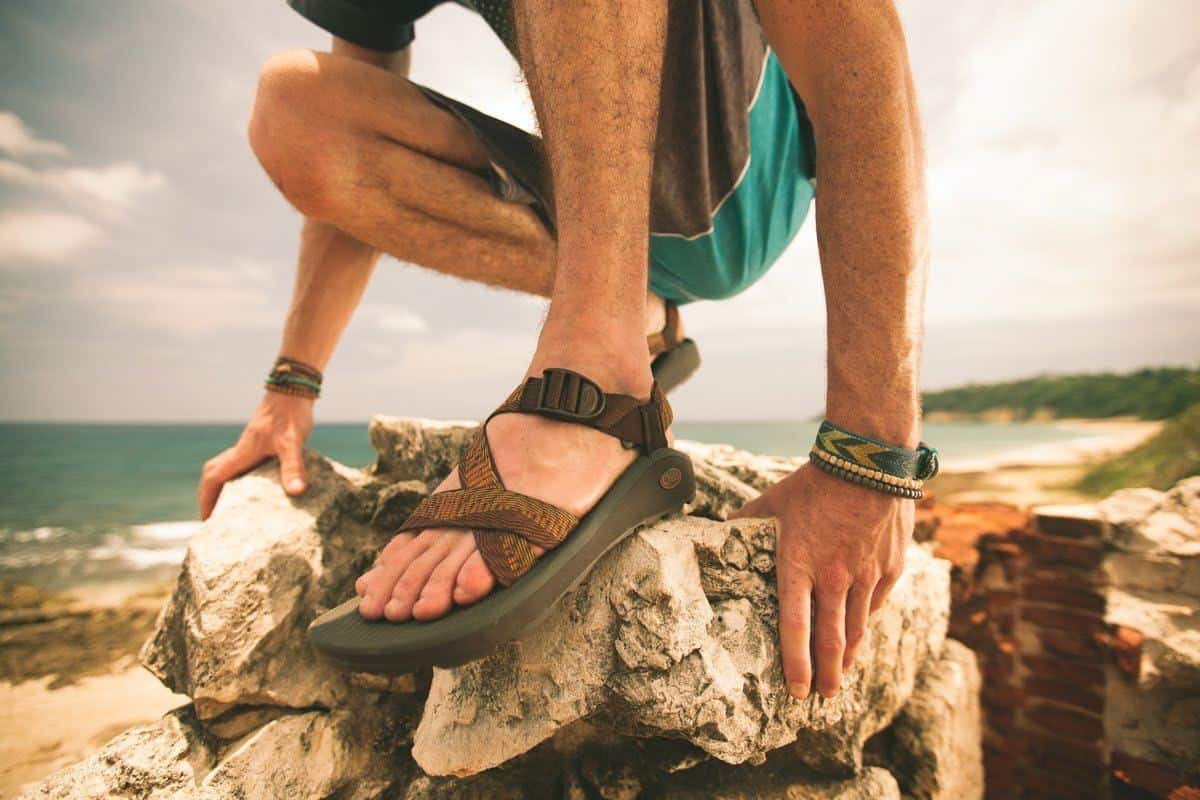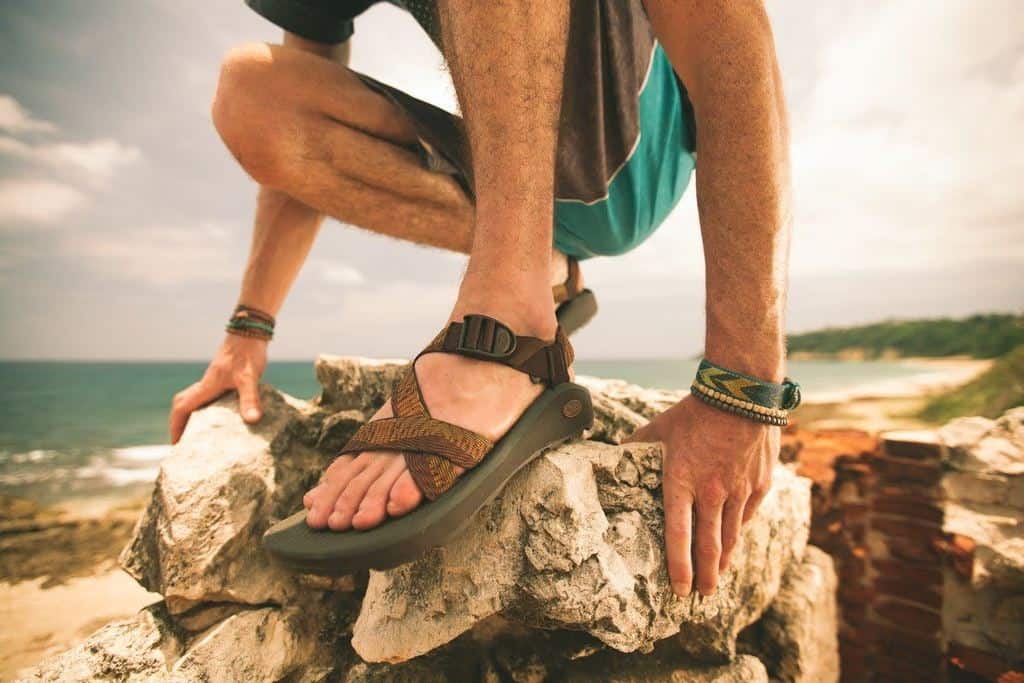 There is one other large difference between the two shoes. One style has a toe loop. This is great for keeping your feet secure to the sole of the shoe. If your feet are slightly larger, or you feel this may be uncomfortable, there is the option to simply have one strap that keeps your feet secure at the base of your toes. It is important to be aware that the Zx option without a toe loop is only available for women.
In addition to the classic look, there are also traditional flip flops available. It is not recommended for intense activity because there is no way to secure your heel to the shoe and does not provide adequate security and safety for your feet.
| | | |
| --- | --- | --- |
| | Men's | Women's |
| Z/1 Sandal | One Strap without Toe Loop | One Strap without Toe Loop |
| One Strap With Toe Loop Sandal | | Two Straps Without Toe Loop |
| Zx/2 Sandal | Two Straps With Toe Loop | Two Straps With Toe Loop |
| Flip Flop | One Strap That Secures between Toes | One Strap that Secures Between Toes |
One tip for choosing the right shoe would be to go to a store to try out the different options and see which fits you best for your feet shape and lifestyle. After making the correct choice, it is time to decide the best buying options.
Of course, I would never recommend buying shoes online without trying them on first, but if money is something to take into consideration it is always an option to figure out the best fit in a store, but buy online. Websites like Amazon.com and Zappos.com regularly have the same exact shoes for up to half the price of what is sold at large retail stores or the official Chaco website.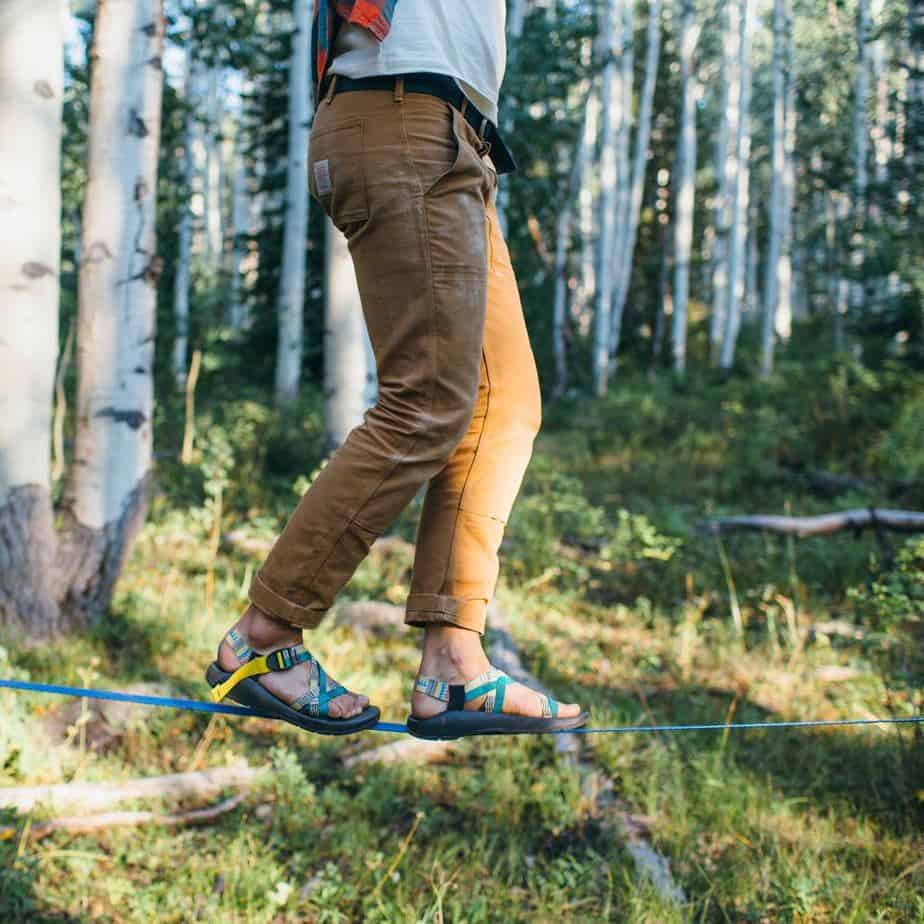 If simplicity and time are of most importance, of course it is easiest to buy the shoes you like the most right at the store itself. This also makes making returns and exchanges more achievable. Also, if you would like to customize your shoe based on color and pattern, the only way to do this is to go directly to chacos.com and click the button Custom at the top. There are also sales and discounts that are frequently updated.
Overall, whether or not you choose to go down the Chaco path, they are a crucial brand to consider when purchasing shoes for your next outdoor adventure. The man who first created them was a river guide in Colorado himself, so they understand better than anyone the importance of comfort, safety and looks.
I must admit, for the past eight months, my Chacos have been my main companion and have been traveling with me through each adventure and have a special piece of my heart. This happens to thousands of people every year and so it is important to beware that if you choose to go down this path it is very likely you will fall in love with your shoes the same way other outdoor enthusiasts have!
It always warms my heart to meet a fellow Chaco lover and while they are rarer outside of the United States, it makes it even more special to meet someone who has just as much access to comfortable adventure as I do. They have truly changed my life for the better and I was not kidding when I mentioned that they feel like another body part at this point.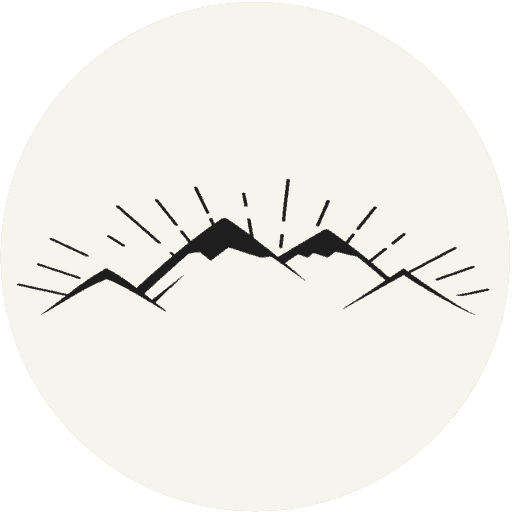 The All-Outdoors Guide team is comprised of enthusiastic experts that enjoy helping others that aspire to be better at outdoor fun. Part of that is making sure you have the right gear and information when it's time to go out and have fun. Some of our team have accomplished amazing feats like climbing 6000 feet to the top of mountains, others have explored every dirt trail they could find and we even have some people that have backpacked solo on various continents. No matter what our readers want to learn and do, our team is here to help them accomplish those goals.