Waterproof boots that could withstand cold, wet conditions never really became an interest of mine until I moved to the Lake of the Ozarks in the middle of winter.
That's when I came across Xtratuf boots and their popularity in Alaska. Any boot that meets Alaskan conditions can withstand Lake of the Ozarks' winter conditions. Although they have so many options available that choosing the best Xtratuf boots for you can be a wild ride.
There are over ten variations of Xtratuf boots, and some are incredibly similar. That's when the dilemma of having too many choices comes in and makes it challenging to choose which ones fit your needs.
Trust me. I looked through all these boots for a couple of hours before deciding. I've done all the research for you to figure out which Xtratuf boots are the best, no matter what you need them for.
Best Xtratuf Boots Up Front
You can't go wrong with the O.G.s when discussing the best Xtratuf boots. The Xtratuf Legacy boots have been around for 70 years and are still running strong for a reason. [Here read my review on the best Xtratuf commuter boots.]
My favorite is the 15-inch Legacy boots because those extra few inches keep water out better than the 12-inch. Depending on the reason why you're looking for Xtratuf boots, you may like one of these other best Xtratuf boots better: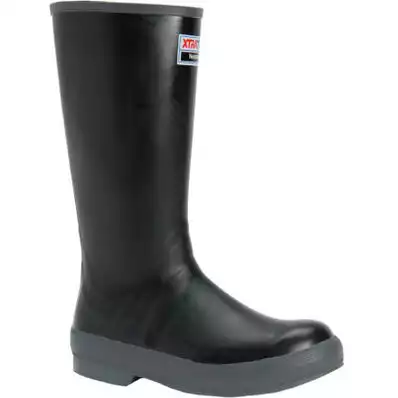 Legacy Boot | Xtratuf
An Alaskan staple in the commercial fishing industry, the Legacy Boot provides commercial fishermen flexible, all-day comfort and the best protection against the broadest range of acids, corrosives, and contaminants.
Check Price
We earn a commission if you click this link and make a purchase at no additional cost to you.
A Review of Xtratuf Boots
I've had my Xtratuf Legacy Leather Chelsea boots for about a month and have been wearing them nearly every time I leave my house. I love these boots, and I think they are my new favorites out of all the boots I own. So let's get into the reasons I love these Xtratuf boots and the features that come with them.
Pros
Extremely comfortable with a layered insole and super flexible exterior.
Every part of the boots is waterproof.
The outsoles stick to slippery surfaces exceptionally well.
They don't look like other waterproof work boots. They are very stylish.
The chevron outsoles are also acid and chemical resistant.
They have many different styles of boots to accommodate many different lifestyles.
Cons
While all Xtratuf boots are very durable, some styles aren't up to par with their original boots.
Xtratuf boots are slim fitting, so they may not be comfortable for people with wide feet.
A Little Background of Xtratuf
Xtratuf started making boots for commercial fishing in the 1950s and has grown into a boot company that makes many different types of waterproof and slip-resistant boots.
Xtratuf's original boot, the Legacy, became a staple among Alaskan fishermen due to their ability to keep up with the rough conditions that Alaska is known for. Seventy years later, the Legacy is still among Alaska's most worn boots.
Comfort
I wouldn't usually start a review for boots known for their waterproofing and ruggedness with how comfortable they are, but this one caught me by surprise.
I've owned many leather boots, and these Xtratuf boots are the most comfortable boots I've ever owned. I first noticed just how pliable the leather is, so I didn't have to break them in.
The footbed in these is also highly comfortable, which I was not expecting because the outsole looks like a rain boot outsole with little support.
The insole is made of memory foam on the top with a midsection that has a lot of rebound in it. It is also removable, so you can slide your own insoles in the boots if they work better for your feet. The build of the boot also has good arch support, so Xtratuff boots quite literally form to your foot every way they can.
Functionality
My Xtratuf boots are made of leather instead of the neoprene they typically use for their shoes. This made me skeptical about how waterproof they are, but I can confidently say that the Xtratuf Legacy Leather Chelsea boots are 100% waterproof.
I stood in a few inches of water for about 3 minutes and never felt a drop of water inside my boot. I even tried rubbing water into the elastic part of the boot, and it beaded up and rolled away.
The boot's outsole is the same chevron outsole you get on the original Legacy boot. They are made to keep you on your feet on super slippery surfaces coated in soapy water or oily substances.
I didn't get a chance to take these boots out on a boat, but I did skid my feet across a smooth dock, and the boots stuck to the ground.
Durability
I haven't had these boots for a long time yet, but I've worn them for about 20 hours. I walk my dog twice a day, go grocery shopping, and have gone out with friends in them. They've held up well so far, with the outsoles looking the same as when I got them and nothing falling apart.
The only thing that makes me nervous about these boots is the leather is creasing a bit where my toes bend when I walk, and it could cause the rubber outsole to peel away at some point.
If that did happen, they would no longer be waterproof. However, their neoprene rubber boots are triple-dipped, so this shouldn't be an issue for those boots.
How I Chose the Best Xtratuf Boots
I wouldn't say any of the Xtratuf boots are bad, so narrowing down the best of the best took some time. There are a few things that I took into consideration to pick the best Xtratuf boots. They are as follows:
Slip Resistance
Most of Xtratuf's boots are SRA or SRC-rated slip resistance, but not all. That means they are tested on soapy ceramic tile or steel floors with glycerin. SRC is the best of the best when it comes to slip resistance, and SRA is next in line. They didn't make the list if the boots didn't have one of these ratings.
Fits a Wide Range of Needs
Xtratuf makes boots with commercial fishing at the forefront of their mind, but they also have boots that can fit into other categories.
They are all usable for fishing, but some boots are good on ice and different terrains, better for sport fishing, and more for casual wear. For nearly anything you would want a waterproof, slip-resistant boot, Xtratuf has it.
Durability
Xtratuf is known for its durability, so I wouldn't say any of them are lacking in this department. However, there are definitely a few pairs that will outlast others in Xtratuf's line-up. Almost all originals have some of the best durability, and a few newer editions stand up to that quality.
6 Best Xtratuf Boots
No matter your reason for looking for a set of Xtratuf boots, there is something on this list for you. Whether you want to experience the best commercial fishing boot out there, want something more casual that's also functional, or anything in between.
Here are the best Xtratuf boots for whatever experience you need them for.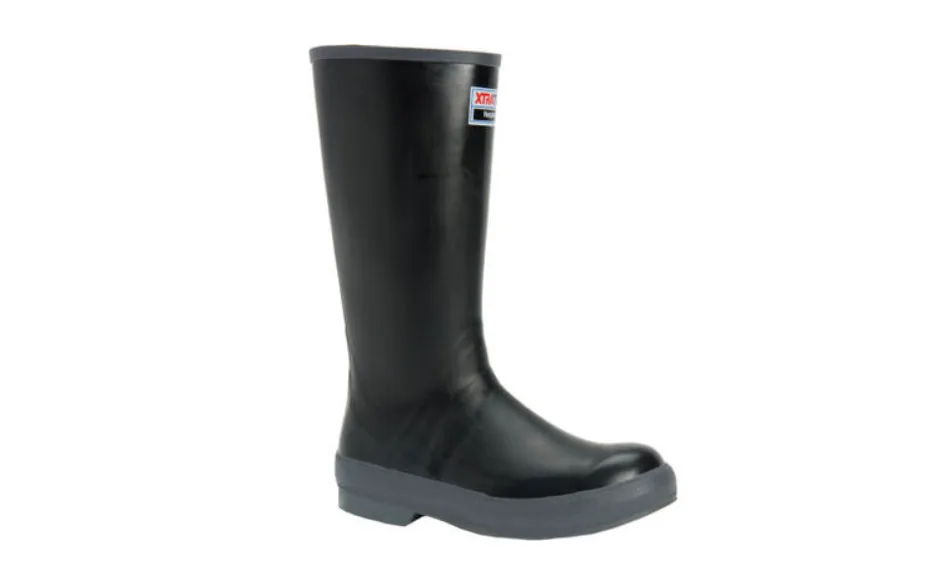 Xtratuf first came out with the Legacy Boot when they opened their business in the 1950s. It is still one of their most popular boots and is worn by nearly every Alaskan fisher. That alone says loads about these boots, but let's get into exactly why these boots are still so loved.
What makes these boots stand out from other commercial fishing boots is their comfort. They were some of the first fishing boots to consider arch support and keeping the foot cool.
They use open-cell foam in the footbed to allow your foot to breathe, and it is form-fitting. People have worked 16-hour days in these without any complaint of their feet feeling tired.
The Legacy also does its primary job really well. They use neoprene rubber to make the boots, which is naturally resistant to the ozone and more flexible. This will keep your boots from cracking and getting tears in the long run.
They are also fully waterproof, resistant to non-organic chemicals and acids, and they keep you safe from viral infections due to Xtratuf's triple dipping technique.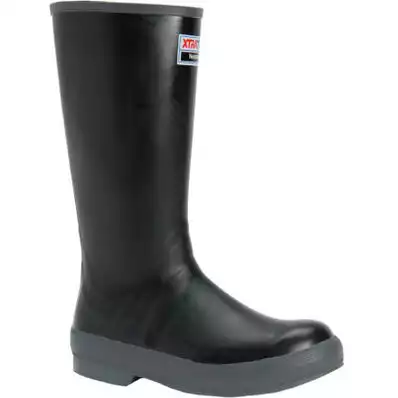 Legacy Boot | Xtratuf
An Alaskan staple in the commercial fishing industry, the Legacy Boot provides commercial fishermen flexible, all-day comfort and the best protection against the broadest range of acids, corrosives, and contaminants.
Check Price
We earn a commission if you click this link and make a purchase at no additional cost to you.
Pros
It has been around for over 70 years and is still a fan favorite.
Waterproof, acid and chemical-resistant, and viral penetration resistant.
SRA-certified slip resistance.
Super flexible rubber, giving you ultimate maneuverability.
Triple-dipped and hand-layered, making these boots extremely durable.
Open cell foam footbed with arch support, giving you all-day comfort.
Cons
These boots are more slim fitting, so they are not ideal for people with wide feet.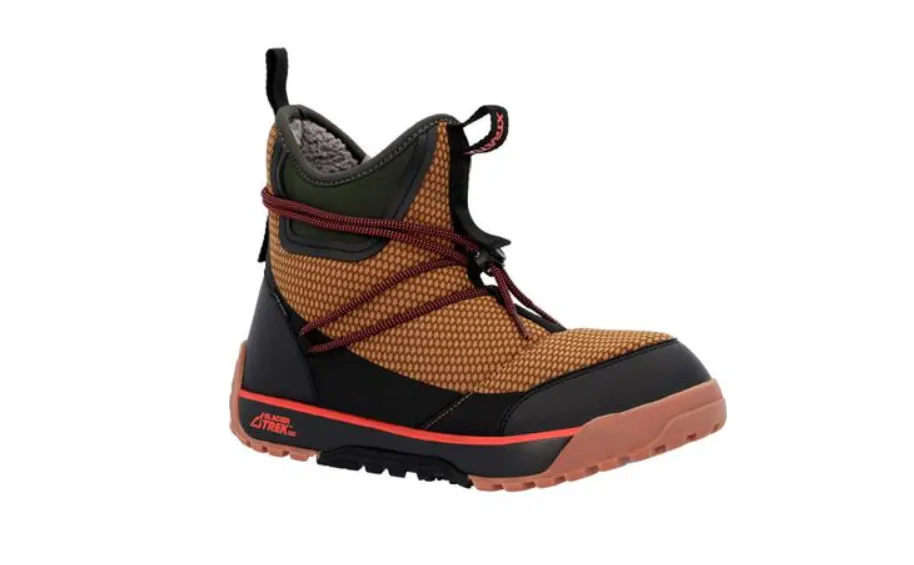 For a brand whose primary consumer is in Alaska, it only makes sense that they would make a boot for icy conditions. Like all of Xtratuf's other boots, these are extremely comfortable and waterproof. However, these boots are unique, made entirely of softer materials instead of rubber.
Putting your foot into these boots feels like stepping into a cloud, with their TUFloft insulating material that mimics fluffy wool and an EVA insole.
Xtratuf engineered these boots with their own hydrophobic material for the insulation and a waterproof membrane beneath the nylon outside. Your feet are sure to stay dry in these while staying super warm and cozy.
The outsole of these boots is also much different from their other styles. They have Xtratuf's Glacier Trek Pro outsole, which has perfectly shaped and positioned lugs to create the most traction you can have without metal spikes. They are also SRC-rated slip resistant, the highest rating you can get.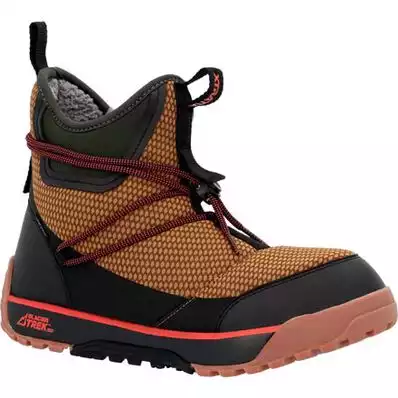 Ice Nylon Ankle Deck Boot | Xtratuf
This is the ultimate wet weather, winter boot. Constructed from an innovative high abrasion resistant upper material coupled with a synthetic insulation made of hydrophobic fibers for water resistance and warmth.
Check Price
We earn a commission if you click this link and make a purchase at no additional cost to you.
Pros
SRC-certified for the max amount of slip resistance that you can get.
Temperature rating of -20 F with wool-like insulation that is hydrophobic.
Glacier Trek Pro outsole for ultimate traction on icy surfaces.
Made of breathable nylon on the outside with a waterproof membrane sandwiched inside.
An EVA insole makes these boots super comfy to wear.
Cons
The laces could be designed better to make the boot tight enough so snow doesn't get in.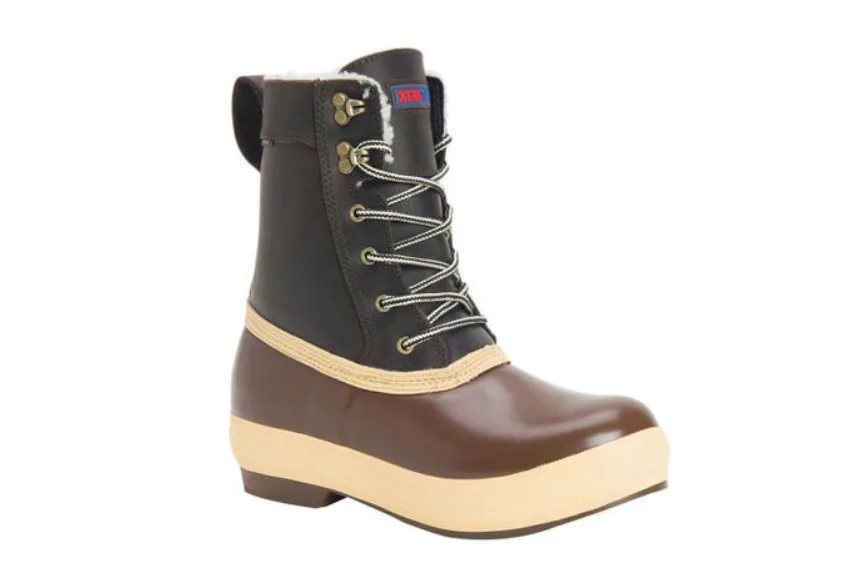 Xtratuf modified their original Legacy boot to be perfect for colder weather. It has all the features you know and love, like a supportive insole, triple-dipped and hand-layered neoprene rubber, and slip resistance. However, the top half of the boot is made of full-grain leather that can be laced up.
Being able to lace up your boots makes it so no snow or ice can enter your boot from the top, keeping your feet warm and dry. Plus, there's a layer of insulation inside to keep your feet warm on the coldest days.
The insulation in the women's style is a fluffy fleece, while the men's style has a thinner fleece lining. I don't know why they made the men's style slightly less insulated, but it's probably because women's feet are almost always colder.
Even though these aren't slip-on boots like most of Xtratuf's styles, they are relatively easy to put on and remove.
The laces have speed hooks at the top, so the laces drop out altogether, giving you plenty of space to pull your foot out. The speed hooks also make it easy to lace back up, and with a pull tab on the back of the boot, they're easy to pull on.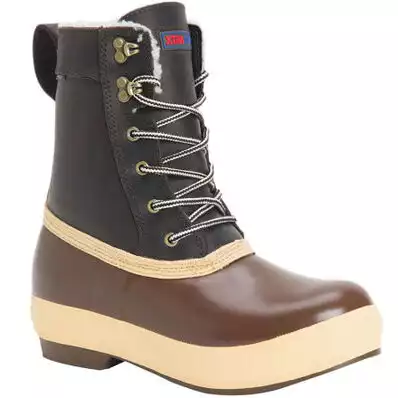 Insulated Legacy Boot | Xtratuf
The all-new Legacy Lace deconstructs our best-selling Legacy Boot and assembles it with a full grain waterproof leather upper, creating a whole new class of boot.
Check Price
We earn a commission if you click this link and make a purchase at no additional cost to you.
Pros
Laces to the top of the boot to make them as tight as you need to keep snow out.
Waterproof with triple-dipped rubber at the base and full-grain leather on top.
Fleece insulation keeps you warm with a comfort rating of -10 F.
Arch support and cushioned insoles make these comfortable all day.
Slip-resistant and the bottom part is acid and chemical resistant.
Speed hooks and a pull tab make these easy to take on and off.
Cons
The men's style seems less insulated than the women's style.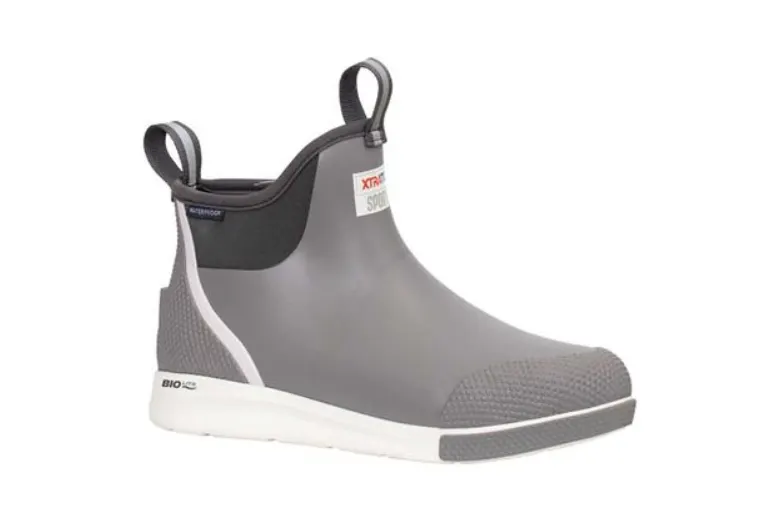 These boots are built like tennis shoes, from their look to their features. The thing that stands out the most is how comfortable they are.
They keep your feet cool and dry and have one of the best insoles that Xtratuf offers. They are also some of the lightest waterproof boots on the market, 30% lighter than Xtratuf's average boot.
Part of the reason they are so lightweight is that the outsole is made of foam instead of rubber. Even though they are not made of rubber, they still have the same amount of waterproofing and are rated SRC slip-resistant.
The mesh inside that is meant to help your shoe breathe is also moisture-wicking, so they have more than one way to keep your feet dry.
The sport ankle boots are also shaped much differently than Xtratuf's other deck boot styles. The back of the boot dips slightly lower than the front, and there is a stretchier material around the top to allow you to move around more comfortably.
While these boots are made specifically for sport fishing, they are also comfortable enough to wear while running errands, walking the dog, or anything else that requires a lot of walking.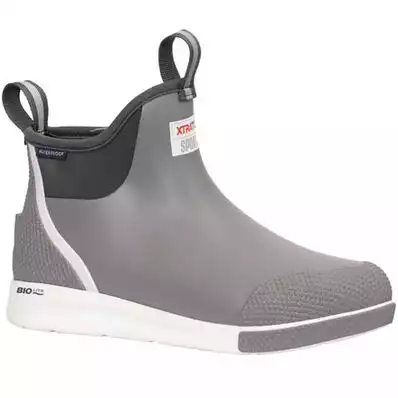 Sport Ankle Deck Boot | Xtratuf
As fishing has evolved so has fishermen's needs, so we continue to innovate and solve for how our boots and footwear can help them feel safe, confident, and comfortable.
Check Price
We earn a commission if you click this link and make a purchase at no additional cost to you.
Pros
Their lightest shoe because of the use of BIOLITE foam for the outsole.
SRC-rated EVA outsole for the maximum amount of slip resistance.
The shoe is completely lined in mesh, keeping your feet cool.
The insoles are super comfortable and have a lot of energy return, made of EVA and polyurethane.
Unique shape to give you ultimate maneuverability.
Cons
They're made for sport fishing and don't have much other use when it comes to fishing.
I've had these boots for a while now, and these are my favorite boots to slip on and wear around town. I'll even wear them for a night out sometimes.
They are super easy to style with almost any outfit. I'll throw them on with some jeans and a T-shirt to do some quick shopping, and I'll also wear them with a cute sun dress. They are just very versatile in style.
Typically when I get a new pair of leather boots, I have to wear them for a couple of weeks before they're actually comfortable. But these were comfortable the moment I put them on my feet. Beyond the super pliable leather, the insoles are also made of memory foam. It's like resting your foot on a pillow with every step.
These are more than just good-looking, comfortable boots, though. They come with all the fantastic features that Xtratuf boots come with.
They're waterproof and resistant to acid and chemicals. I even tried rubbing water into the elastic part of these, and it is fully waterproof. The outsole is SRA-rated slip resistant, so you won't need to worry about sliding around on that grocery store tile.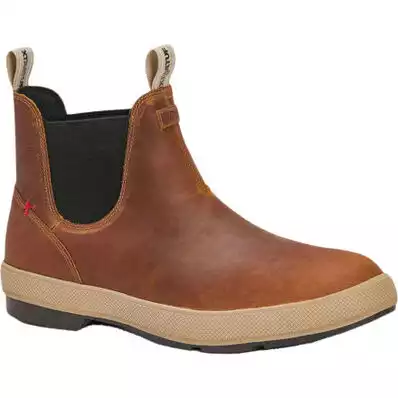 Legacy Leather Chelsea Boot | Xtratuf
Ready for most any season, weather or occasion. The Legacy Leather Chelsea is a versatile boot that delivers performance for those moments off-the-water; mending nets, maintaining engines or general daily wear.
Check Price
We earn a commission if you click this link and make a purchase at no additional cost to you.
Pros
Immediately comfortable right out of the box.
The leather design in a Chelsea boot style is trendy enough to wear out and about.
The full-grain leather is salt water, acid, and chemical resistant.
The outsole is rated SRA slip resistant.
Memory foam insole makes these comfortable enough to walk around in all day.
Cons
While they can be worn for work occasionally, they are not built to withstand long days of hard work every day.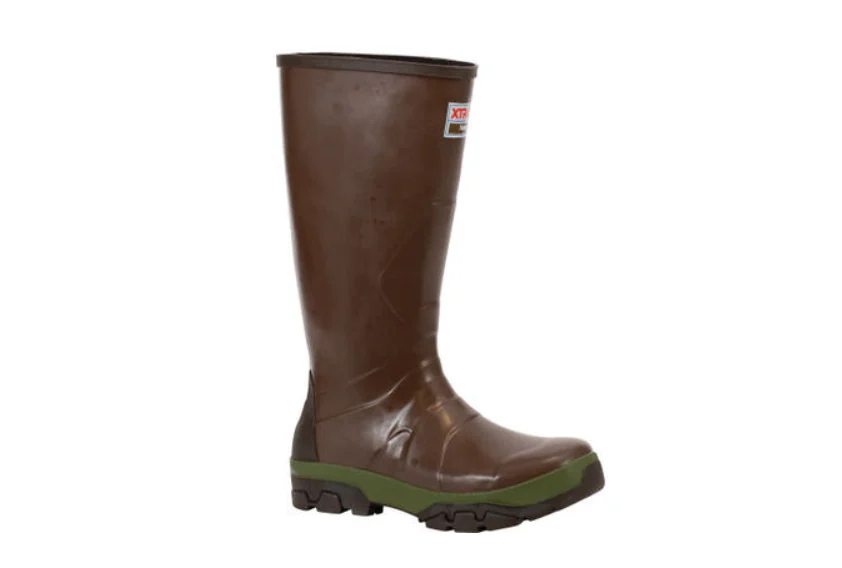 People loved the Xtratuf Legacy boot so much that they started wearing them in more places than just on the boat. That's when Xtratuf decided it was time to develop a similar boot that could handle any terrain. The Altitude boot has a new outsole with deep lugs that are patterned to grip any surface.
I particularly like how high these boots come on your calf. Their height would ensure that nothing flicks up into your boots, which you know could ruin your hike if you've ever hiked through the mud. They would be great boots for mushroom hunting, wading through waters, or simply hitting a trail after a bunch of rain.
Like the original Legacy boots, the Altitudes are waterproof, acid and chemical-resistant, and even oil resistant. They are as comfortable as the Legacy boots, with a super soft footbed that wicks away moisture.
One thing they did change about the shape of this boot, though, is they made the opening wider. I love this because it makes it so much easier to slip them on.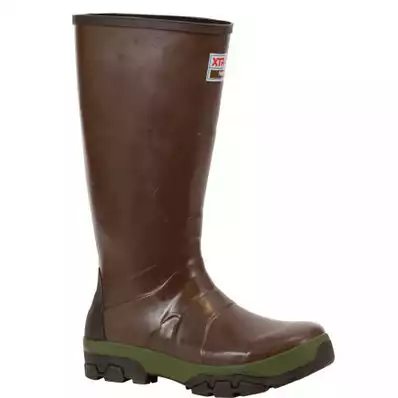 Men's Altitude Legacy Boot | Xtratuf
As fishing has evolved over the years so have the fishermen's needs, therefore we continue to innovate and solve for how our boots can help our users stay safe, feel confident, and remain comfortable.
Check Price
We earn a commission if you click this link and make a purchase at no additional cost to you.
Pros
SRA-rated deep lugs make these boots suitable for all terrains.
15-inch height keeps water, mud, and anything else you're walking in from getting inside the boot.
Oil, acid, and chemical resistant.
Open cell foam insole gives you an amazing cushion and keeps your feet dry.
They have a wider calf, making putting them on and taking them off easier than the original Legacy.
Cons
Only comes in a men's style, but can be worn by women if you know how to size them.
FAQs
Question: Are Xtratuf boots good quality?
Answer: Xtratuf boots are of fantastic quality. Most people get years out of their Xtratuf boots and will most likely notice the sole wearing down before anything actually breaks.

If, for some reason, your boots don't last you very long before getting some sort of defect, the company includes a one-year warranty with every purchase.
Question: Should I size up or down in Xtratuf boots?
Answer: You should size up when choosing your Xtratuf boots. All of their boots have more of a slim fit, so if you plan to wear thick socks with your boots or have wide feet, you may need to size up to the next size even.

Your best bet would be to visit a retailer to try them on first. If there isn't a retailer near you, you can return your boots free of charge in the first 30 days.
Question: Why do Alaskans wear Xtratuf boots?
Answer: Many people in Alaska are fishermen or women by trade. Xtratuf boots make some of the best commercial fishing boots on the market, so nearly all those fishing in Alaska wear them. After that, the brand spread through Alaska, so they started making many styles that adhere to the Alaskan lifestyle.
Question: Can you hike in Xtratuf boots?
Answer: There are only a few Xtratuf boot styles that I would recommend hiking in. Most of their boots do not have a good outsole for hiking.

However, the Altitudes, Ice, and Bristol Bay series have outsoles that can handle any terrain. If you spontaneously decide to hike in any other Xtratuf boots, they will most likely be fine. I just wouldn't make a habit out of it.
Best Xtratuf Boots Guide: Which Xtratuf Boots Should You Choose?
If you are looking for a universal pair of boots that can be worn for work and play, I recommend the 15-inch Legacy boots.
They're durable and have all the features you need to work in them for long hours, but they are also easy enough to grab and go when you want to run errands or go for a quick walk. I also think they're pretty good-looking compared to other rubber boots.
Beyond that, all the other boots on the list are made for a specific need. What's best for one person will be different from what is best for the next, and Xtratuf considered this when making all their boot variations.
You'll always get the durability and waterproofing that you know and love about Xtratuf, but with little extras that make these boots the best tailored to you.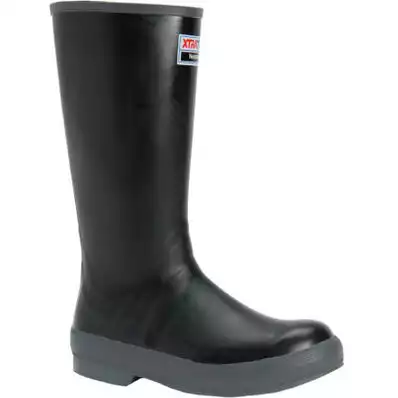 Legacy Boot | Xtratuf
An Alaskan staple in the commercial fishing industry, the Legacy Boot provides commercial fishermen flexible, all-day comfort and the best protection against the broadest range of acids, corrosives, and contaminants.
Check Price
We earn a commission if you click this link and make a purchase at no additional cost to you.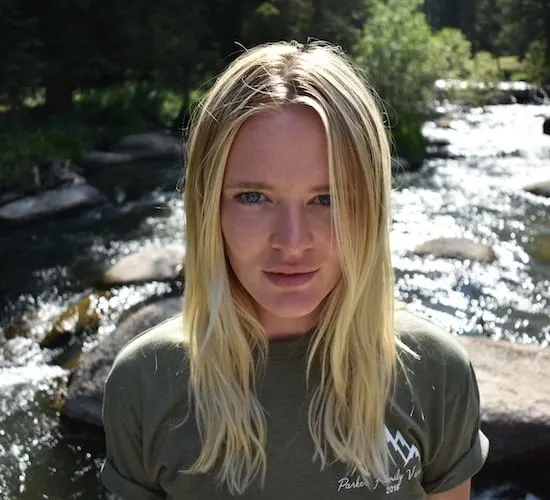 Haley loves hiking and camping. That state of calmness is like no other. A top 14er rock scrambler, Haley wants everyone to experience the highs and joys of outdoor living and here is to help prep the rest of us to do so safely. Here to share her top gear, tips and climb to the top hiking strategies, Haley is a bonafide outdoors guide to love!