A vacation to Iceland can be an extremely valuable experience for any traveler. If you think of Iceland, you may think of deep fjords and mountainous regions, the varying day and night cycle, the extremely cold weather and the sauna culture.
However, there is far more to Iceland than you may think, and we are already familiar with some of it. You have probably heard of Reykjavik, the capital of Iceland and the largest city there, the beautiful Blue Lagoon, or the world-famous Aurora Borealis.
In addition to this, there is a wide variety of differing landscapes, from boiling springs and geysers erupting from the center of the Earth to its gorgeous scenic waterfalls and landscapes that are extremely Instagram-worthy. It is also the perfect playground for daring adventurers looking for the next sport to conquer and a calm and tranquil cultural paradise for the adventurous introvert.
Many artists and painters have been awe-struck upon seeing the scenic beauty of the mountains and rivers, and the pure untouched meadows. Iceland is also home to multiple volcanoes and is geologically active. With all kinds of climate conditions from sand to snow, fields of lava resulting in black sand beaches to glacial rivers, Iceland is a very diverse country with respect to its landscape.
With the quaintness of the typical Nordic country, Iceland has a low population of 348,580 people, making it the most sparsely populated country in all of Europe! This lends itself really well to the general ambiance of the country when you visit, which will be quiet and tranquil.
The first settlement is estimated to have begun in 874 AD when the Norwegian chieftain Ingólfr Arnarson became the first settler on this island. Over time, more and more Norwegians and Scandinavians began to migrate to this island, as was the custom in the Viking culture. It is interesting that it is one of the very few countries in the world with no standing army, and only a lightly armed coast guard.
You may not be familiar with this, but Iceland's summers are refreshingly breezy, warm, and lush green. The days lengthen significantly, with the sun setting at around 9 or even 10 pm, which makes it quite a beautiful place to go travel.
However, it still has temperatures that reflect its geographical location in the temperate region, and the summers are still quite cold as compared to more tropical parts of the world. If you intend to visit Iceland anytime soon, it can be useful to look into how the weather and climate distribution can affect your plans. Let's look into what kind of weather and climate conditions exist on this beautiful island.
Iceland's Weather and Climate Conditions

There is a saying in Iceland that goes like, "If you don't like our weather, just wait a minute." This is because the weather is so volatile and constantly changing that it becomes difficult to predict what to wear or what to expect.
If you intend to visit Iceland on your next vacation, you will have to take this into consideration, and assume the worst polarised weather changes. You will need to be prepared for everything, which can be quite an annoying thing while thinking about how to pack for your vacation here.
Iceland's climate does not often beget its name, considering it is significantly milder than most people expect. You would likely not find roaring chill winds and snow draped over the entire country throughout the year. This seems strange if you think about the fact that Iceland's geographical location is just south of the Arctic circle.
The reason for this is that there is a part of the warm Gulf stream called the Irminger Current that flows along the southern and western parts of this country. This results in a more moderate weather pattern, and at times, you will find that the winters are even warmer than you'd expect, sometimes even warmer than in North and Central Europe. This is what makes it a very cool vacation destination.
The seasons here too tend to be quite mild, however, it is always better to check the weather and climate conditions if you wish to vacation here. Although you really cannot predict the weather, it will be useful to get a general idea of the average temperatures and climate as per the season.
Usually, the seasons will have average characteristics that will help you make your decision with respect to packing clothes and outerwear and prepare for the cold accordingly. The best type of weather you can expect is every type of weather.
The climate in Iceland is subarctic near the southern end as the warm Gulf Current does not affect this region. Therefore, it is very likely that if you intend to visit this part of the island, you will have to pack outerwear that is designed to withstand extreme cold.
A strong characteristic is Iceland, in general, is it's long winters which aren't quite cold, however, the temperatures do remain to freeze for about six months. This something you will have to take into consideration if you are planning to visit here. On the other hand, the climate is relatively milder and warmer towards the interior of the island, which is mainly comprised of what we call the Icelandic Highlands.
Here, you will find a tundra climate from the Arctic, with the soil remaining frozen for most parts of the year, and only melting in the peak of summer, then freezing again as summer subsides. The winters are usually very long and very cold here, while the summers are shorter and somewhat cold.
Be aware that when we talk about the summer is warm, we mean relative to its geographic location at such a northerly latitude. This does not mean that you will find warm, summers like you would in Spain. The average temperatures in the capital city of Reykjavik and along the lowlands is about 0°C (32°F) in winters.
The northern part of the island is naturally much colder than the southern. The tundra in the Highlands can reach an average of about -10°C (14°F) while the lowest temperature on record has been -39.7°C (-39.5°F).
With respect to precipitation, it is important to remember that the driest months that Iceland has are from May to July, while the wind and precipitation levels peak between the months of October to March. Iceland is an extremely windy country, which means you will have to carry outerwear that can protect you from the harsh wind chill factor that can make the average temperatures seem extra cold and freezing.
Violent wind gusts are extremely common here, but if you stick to the populated areas, it tends to be far less than usual. The average wind speed ranges from 13-26 km/hr (8-16 mph), and the winter months tend to be the windiest.
Seasonal Differences In Iceland

According to the traditional Icelandic calendar, the year is divided into two seasons: a long winter with seven months from October to April, and a shorter summer of five months from May to September. Even though the two seasons may seem different, the actual swing in temperature is not polarised and tends to be very averaged out. What really makes a difference is the amount of daylight the island receives and the precipitation and humidity levels.
In winter, this island only gets 4 to 7 hours of sunlight, and the southern part of the country gets more sunlight than the North. So you will have to be prepared for dark, cold and windy winters with very less sunlight, which can be extremely unsettling for someone who has never visited a place like this.
However, this adds to the charm of the place as well, and you will appreciate the way the Icelandic culture has adapted itself to this climate as well, and it will be quite easy to get used to after a day or two that you spend here.
However, if the winters intimidate you or you are from a warmer part of the world with less harsh winters, keep in mind that the culture of Iceland is entirely oriented around surviving the harsh winters. From saunas to winter wear clothing boutiques where you can go shopping for novelty wear, you can find all kinds of solutions to beat the harsh winters here.
Keep reading on if you would like to know more about how different the seasons in Iceland can be, and how you can cope with these differences and plan a trip to this beautiful country in a way that will accommodate for its climate and weather as well.
Types Of Jackets

There are several types of jackets that you can opt for if you want to survive the harsh Icelandic winters. The right coat is like the icing on a cake, it can add style and taste to your entire outfit while also preparing you for the harsh conditions.
We, humans, are very adventurous beings, in spite of having an average body temperature of 37°C, we do not let that affect our nomadic lifestyles and travel plans. When we are cold, we simply put more coverage on our bodies to shield ourselves from the cold.
The best kind of jacket is one that provides enough warmth, insulation, and protection against the outside cold. As long as your body heat that is radiated is allowed to stay close to your body and not escape into the atmosphere, we can feel quite comfortable. It is only when our body heat quickly disperses that the atmosphere can start to cool your skin making you uncomfortably cold after a while.
In the extreme temperatures of Iceland, this can also lead to severe health concerns such as frostbite, which can affect your limbic motor movements and nervous system and can be an extremely dangerous situation to land in.
Therefore, we would like to look into different types of jackets available out there and offer you a wide variety to choose from if you wish to visit Iceland anytime soon.
For example, the topcoat is a traditional staple for men's outerwear. This will give you a timeless and versatile, flexible look that will go with most kinds of clothing. Usually, this type of jacket is constructed out of wool or fleece for structure and warmth and offers a longer sleeker look.
This coat should reach just above your knee and should have a comfortable fit. You can carry off a topcoat with most kinds of clothing, including denim, jeans, and trousers. It is versatile enough to go with both formal or informal types of clothing. More modern versions of this jacket feature a more slim fit that offers a more formal look to your ensemble.
However, even if you dress it down with a polo shirt and a pair of joggers, it will still look quite sleek and stylish. Topcoats offer a more minimalistic aesthetic with flap pockets on the side being the only real decorative element to the whole jacket.
Another example is the peacoat which is an extremely stylish and luxurious-looking outerwear if you are looking for a jacket staple. With its tailored double-breasted aesthetic and classic charm with a contemporary twist, the peacoat remains a staple must-have to any wardrobe, whether male or female. This was the coat that was featured in a James Bond movie by Daniel Craig, which gives it that extra style factor.
This style, however, can be a bit boxy but can also come with a more trim and slim fit for the perfect contemporary look. You can wear it with anything, from formal to informal wear and it will carry itself well for you. In addition to this, it is also extremely lightweight making it the perfect travel companion for your Icelandic summers. This can also be used as great transitional wear between seasons, as the summers fade leading to autumn.
The bomber is a third example in jackets available that gives you a very stylish yet old-school look. This jacket will help you fit right in with the Icelanders as it is extremely common as a style statement over there. The bomber is a classic and iconic WW2 US military jacket that was created for WW2 pilots to remain warm at extremely high altitudes.
This gives it that military look that transfers really well into both formal and informal attire and is constructed from distressed leather for added character. This gives it a very rugged and almost masculine look, but it can be worn by women as well for its stylish look. This is great to throw over denim trousers or jeans with a smart shirt during the spring to summer months in Iceland.
However, those with the most robust fitting inside can be worn in the peak of winter as well and can keep you warm throughout.
The puffer coat is the classic peak-winter outerwear that you need to get if you are going to be spending any amount of time in Icelandic winters. These jackets have a variable degree of warmth and wind-breaking factor, depending on the material it is made from and its quality.
The bulkiest options are the ones you want to opt for if you want to survive the crazy Icelandic winters here. However, the thinner versions are good if you wish to go for a summer walk, and they can hold their own even in the great outdoors when the sunlight is out. These types of jackets are also extremely travel-friendly and can be easily packed for any holiday travel.
Most of the times, these jackets are filled with down feathers if they say that they are natural, but if they aren't natural, they may not be. It all comes down to your preferences and taste, and also the type of insulation you will get with this type of jacket. A lot of times, these jackets also come with a detachable hood that can be great for those long nights of waiting in the middle of nowhere for the Aurora Borealis to show up.
The parka is another staple of the Icelanders, so buying this would mean you may be able to pass as one of them. Extremely functional and form-fitting, and not to mention quite stylish, this is the perfect option if you want a variety of benefits that you need shielding against, from rain to sleet to snow.
Often, it is also equipped with a hood for your convenience and can help shield you perfectly against the harsh winter winds that blow through the island. The hood will make you feel like a cocoon of your own heat radiation, and it is perfect to slip into when the climate starts to chill.
However, make no mistake, this does not mean that you need to have severe winters for you to enjoy this cozy warm jacket, it has earned a bit of urban cred so you can wear it casually on an autumn night out as well.
Criteria To Look For When Buying A Jacket

When you go for a jacket, there are many key criteria you will have to look into and do your research into. It is of no use to buy a jacket that can only serve you for one or two functions, and if you do not research properly, it could even happen that your jacket is wholly unfit for your vacation in Iceland altogether.
To avoid such a fate and to avoid the jacket remaining in your suitcase throughout your vacation, be sure to check the weather conditions in this article to make your choice. Research carefully about what criteria you will need to buy the perfect jacket for Iceland.
Below this section, we have highlighted how different seasons will affect your choice of outerwear and jackets. But for now, let us explore the criteria we need to look into to buy an outerwear jacket.
One of the most important factors may be budget. It is important to figure out just how much money you can spend on a jacket. If your budget is far too low for a decent jacket, consider that you might wish to use the jacket in your home country once you are back as well.
However, if you come from a very warm place and so using it in your home country is simply not an option, one great idea to be able to buy the perfect jacket for your Iceland vacation can be to split the cost of the jacket with a friend or family member. This way, you can share the jacket whenever either of you goes to a cold place, and both of you will benefit from having access to a good-quality jacket when you wish to go to any cold country.
However, below we highlight some very important aspects and factors that you should not compromise on to have a comfortable experience in Iceland. This is also the same criteria I used to make the product recommendations in this guide.
Waterproofing
This is an important criterion for a variety of reasons. As we saw above, Iceland has a tendency to have very extreme weather conditions that change at any time. A waterproof jacket can help you deal with the issues of a sudden downpour.
There is nothing worse than ending a day of your vacation by ending up drenched and cold and uncomfortable. This can cut short your day and send you back to your hotel in the middle of the day, wasting valuable vacation time.
Often, your jacket will come with a waterproof rating which is measured in mm.
They come in ratings varying from 5,000 mm to 20,000 mm. These jackets will show you how much water it can tolerate, however, it is always better to go for a higher mm if possible, and if it fits your budget. Make sure the jacket is 100% seam-proof, this is the only thing that will make it completely waterproof.
Breathability
Breathability is an extremely important factor if you are going to go hiking anywhere, or if you intend to spend long periods of time in the great outdoors. Breathability becomes an important factor to beat the sweat. This is both for comfort and warmth.
That's because if you are sweating a lot because of your hiking or adventure sports, the jacket needs to be able to expel this sweat and not allow it to get trapped under it. When you take a break and this sweat cools down, it will make you really cold really fast. This is why you need breathability to allow your skin to breathe through the jacket.
Breathability can be measured in grams, from 3000 gms to 20,000 gms.
Insulation
Standing around in the fields of Iceland waiting for the Aurora Borealis to show up can seem like a great image, but it will end up becoming a nightmare for you if you don't have the right protection against wind chill factor. Insulation in your jacket is an extremely important criterion to consider since you are going to such a cold place.
Insulation in jackets can be noticed by simply wearing it and standing in front of a fan, if you can feel cold because of the wind, then it is not very good insulation. It ranges from zero to 120 gms, with all kinds filling inside the jacket to serve as a windcheater.
Hood
Hooded jackets are the way to go considering you are going to what can possibly be a cold, wet place at times. Having some sort of covering over your head that you don't have to carry with you is obviously a useful feature. This is definitely a must-have feature for Icelandic winters especially, since your ears and face can get extremely cold from the harsh winds out there.
Measurements
This is an obvious choice, but you will be surprised at how many people simply borrow someone else's jacket to go on their vacation, and end up in Iceland freezing because the jacket isn't covering enough, or doesn't provide enough insulation as it's not a comfortably snug fit.
You need the right-sized jacket, as it determines how warm it can keep you. A bigger jacket will not hold your body's radiant heat for too long especially as you are near subzero temperatures in the winters, so don't assume you can borrow a way bigger jacket. Make the investment and buy yourself a good-quality jacket so you don't spend your vacation freezing.
Aesthetic
The last but not least. You are simply not going on vacation to such an exotic, gorgeous place and ending up not taking any photos. And when you do, you will want to make sure that you aren't wearing a grandmotherly old sweater with your otherwise stylish clothing options.
Invest in a jacket that looks good and makes you feel good wearing it. Otherwise, you may find yourself debating your priorities of comfort versus embarrassment instead of enjoying your vacation. Fortunately, there are more than enough options for you to choose from when it comes to looks and aesthetic. You should be able to find the style that you most identify with.
Best Jackets In Iceland
Now, it's time to introduce the best jackets to wear while you're in Iceland. There are a lot of jackets on the market that are supposed to keep you warm, but there aren't a lot of options out there if you're looking to stay warm in the extreme conditions in Iceland.
Thankfully, there are a few options out there for you to consider. Here are my top picks for the best jackets in Iceland!
Northface Gotham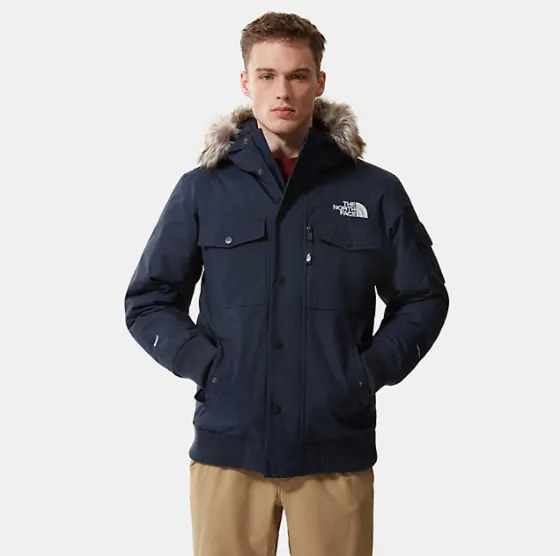 This is a great jacket to keep you nice and toasty, even when you're in below-freezing weather. But, I love how lightweight feeling this jacket is. It isn't too puffy to the point where you can't move around in it. Plus, the pricing for this jacket is super affordable too.
However, it's got plenty of layers to keep you warm. There's plenty of space in this jacket for you to dress in layers too if you feel like that's something you need to do. The jacket is stuffed with down feathers, so you'll be protected while you're in harsh weather. And on top of all of that, there are several pockets for you to use to stuff everything you need inside!
Pros:
Available in both men's and women's style
Lightweight
Easy to move around in
Super durable
Cons:
Pricing
Not a lot of color options are available
Columbia Frost Fighter Hooded Puffer Jacket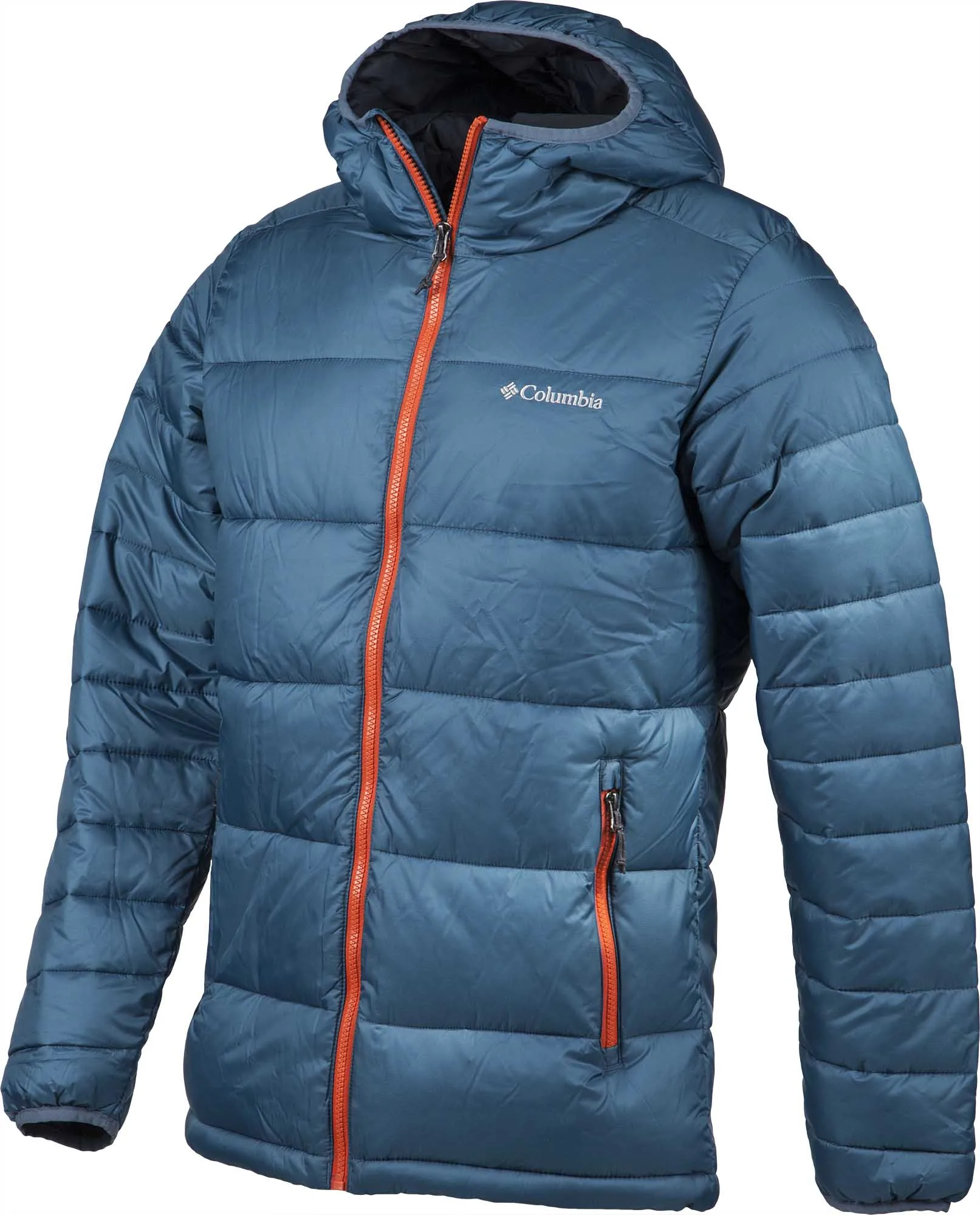 While this is a men's jacket, I don't think it's off-limits for women either. If anything, the additional length on this jacket (if you're a lady) will help to keep your legs warm. This is another outstanding option for those freezing winter days in Iceland. It's also a super affordable option too, so if you're not looking to dump a bunch of cash on your jacket, this is a great option!
The fabric for this jacket is also water-resistant, but what I think is the coolest feature of this jacket is the chin guard. That's right – I said, chin guard. There's a special fabric to this jacket that keeps your chin from getting abrasions because it's constantly rubbing up against the rough fabric. Also, love that the pockets come with zippers too.
Pros:
Water-resistant jacket
Super affordable
Easy to pack away, super compactable
Cons:
Only a male option is available
The hood isn't removeable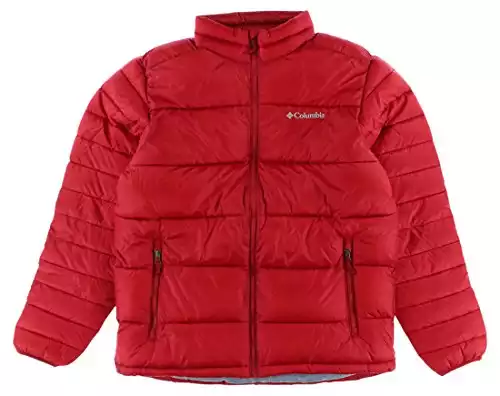 Wantdo Mountain Waterproof Jacket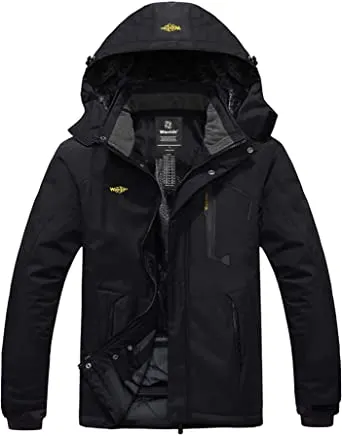 There's a lot that this jacket can withstand. Even if you get caught in a rainstorm, an ice storm, or harsh winds, you'll stay warm and dry. So, no matter what type of environment you get caught up in while you're outside, you can trust that you'll stay cozy.
This jacket isn't bulky either. Inside the jacket, you can find fleece lining that helps to keep you both warm and dry. I love that this jacket was designed to keep your body protected from the water, which is why I feel like it's perfect for wintertime in Iceland.
Pros:
Water resistance
Fleece lining
Several pockets
Great pricing
Cons:
Some problems with stitching coming undone
A handful of people have reported inconsistent sizing problems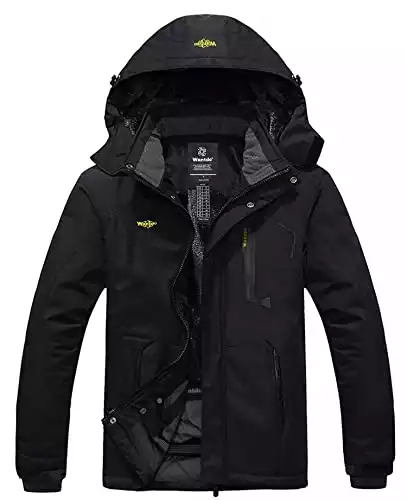 Wantdo Ultra-Light Down Jacket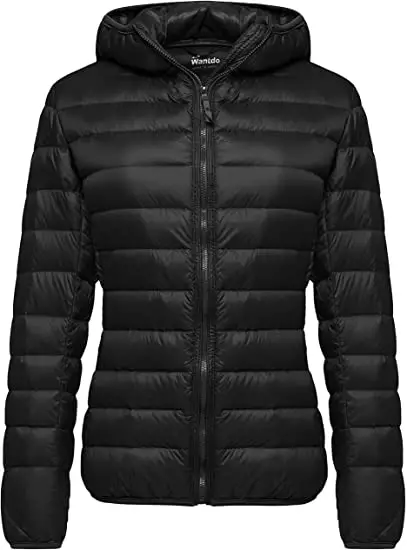 Wantdo offers jackets that are perfect for both summer and winter! I love this light jacket; it's the perfect summertime jacket for summertime in Iceland in my opinion.
It's true – this jacket does keep you warm. But, there's a lot more that this jacket has to offer too. It's sooo lightweight that it makes me feel like I'm not even wearing a jacket. Plus, it's super easy to carry around thanks to the compression pack that comes with this lightweight jacket.
While I wouldn't wear this jacket if you're trying to prepare for a rainy day, it's a great jacket to keep you warm if you plan on wearing it underneath a warm summer coat. And it's made super well too, so you can trust this is an investment that'll last you for many years to come.
Pros:
Both men and women options are available
Tons of color options available
Great size range
Cons:
If you want to return your jacket, you have to pay for return shipping
Some users complain of inconsistent sizing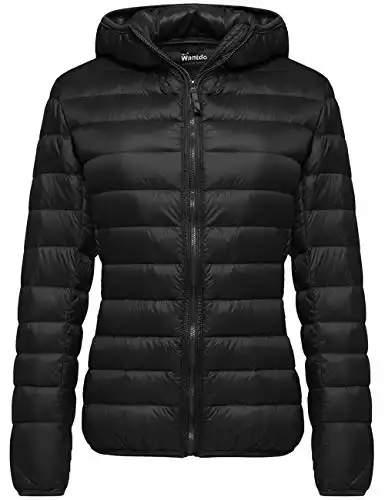 Winter Jacket In Iceland

It is important to make sure that you choose the right kind of clothing, otherwise, your vacation could turn out to be very uncomfortable… Even if you plan to stay indoors and do nothing much in your vacation time, plan to pack for at least three layers of clothing.
The innerwear thermals, normal clothes, and outerwear. If you intend to see the Northern Lights, also known as the Aurora Borealis, you will have to carry a windbreaker or windcheater with you. This is because you have to stand around in the dark waiting for the Northern Lights to show themselves for a very long period of time, and you will probably have to do so in an open field.
If you do not have the right kind of clothing to accommodate for the wind chill factor, you will really be uncomfortable and it is extremely unhealthy to stay outside without the proper winter gear in really low temps. For a lot of tourists, frostbite and other serious health concerns are pretty common, so make sure you carry adequate protection for your hands and feet especially.
Look for winter wear that claims it provides adequate insulation. This will help you survive the long waiting period for the Northern Lights. Also, it can be a good idea to go for a type of jacket that offers reusable pocket warmers to use.
If you intend to go out of the city and visit some waterfalls, black sand beaches or other famous tourist attractions, it is a good idea to pay attention to the fact that you have windproof and waterproof winter wear to accompany you.
Try to dress smart and pay less attention to aesthetics, as it is far more important that you are comfortable and able to enjoy your vacation here than uncomfortable. Trust us, the Instagram pictures will not come out well if you are freezing!
Make sure you can remove one or two layers when you return to any civilization, as most coffee shops, restaurants, and establishments here have central heating and so you will not need heavy protection against the cold once you are indoors in any establishment. Because of the fact that Icelanders have adjusted quickly to the cold, this also means that you will spend a lot of time between extreme temperature variables from indoors to outdoors.
Summer Jacket In Iceland

In summer, Iceland is extremely pleased with respect to the climate and weather. If you are the kind of person who is extremely sensitive to any cold, you will probably already know that it is best to visit this island in the summers as they tend to be quite comfortable.
In summers, Iceland has 15 to 20 hours of daylight, in fact, most of your day will be bright outside, and this difference will be even starker in the north. As a matter of fact, after April, the sun simply doesn't set much below the horizon so you will have sunlight almost all the time. It is often so bright that Icelanders don't even need to use street lamps from late April to August!
Summers bring with it the reason why Iceland is called the land of the Midnight Sun, the magnificent phenomenon where the sunset turns directly into the sunrise. Most tourists visit around this time only as the view is so beautiful it will take your breath away.
In this situation, the heat from the sunshine can make the temperature feel warmer than it actually is. It is usually better to go for sunscreen and sunglasses as it can be bad for your skin and eyes to be out in the sun for so long. Summer temperatures, however, don't really go above 15°C, so plan accordingly.
In addition to this, showers and windstorms are also quite common, so your jacket may require to have a waterproof quality to it as well. It is always better to be prepared for everything so you are not caught in the downpour without waterproof outerwear, so plan accordingly.
Storms In Iceland
The frequency of storms is the highest later in the year, from the autumn season til winter. There should be about 15 or so stormy days in a year in the lowlands, so you will have to plan accordingly. This figure, however, doubles for the highlands and beaches.
Always make sure that you check the weather forecast and warnings and road conditions before you go anywhere.
In addition, if you plan to go hiking, you will need to select your clothing carefully and wear three layers at least. Choose a dry breathable fabric with your jacket.
Conclusion
In conclusion, the type of jacket you should bring to Iceland really depends on the season you will be there. If it is winter, bring a nice puff jacket and a hard shell. We recommend the Arc'teryx Thorium puff hoody accompanied with the Beta AR. This couple will keep you protected and warm in any winter conditions. If it is summer, just a puff hoody will be fine! You may even be able to shed the top layer entirely and go short sleeve depending on where you are.
Have you ever visited Iceland? If so, what's your favorite part of the country and why?
Happy traveling!
Further read: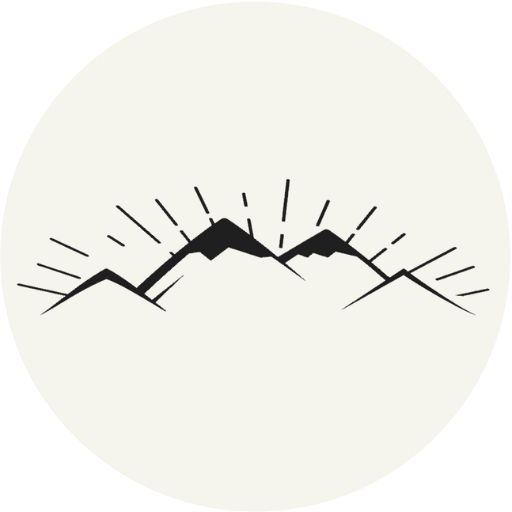 The All-Outdoors Guide team is comprised of enthusiastic experts that enjoy helping others that aspire to be better at outdoor fun. Part of that is making sure you have the right gear and information when it's time to go out and have fun. Some of our team have accomplished amazing feats like climbing 6000 feet to the top of mountains, others have explored every dirt trail they could find and we even have some people that have backpacked solo on various continents. No matter what our readers want to learn and do, our team is here to help them accomplish those goals.