Few brands have been successful as Vasque in creating a hiking boot so highly praised as the Talus UltraDry. Those familiar with Vasque would find it as no surprise as this company has been producing high-quality outdoor footwear since 1964.
The founder of Vasque was an avid outdoorsman who strived to create boots that were akin to the superior handmade footwear Europeans relied on to get them through harsh terrain and less than pleasant weather.
The Talus UltraDry is one of six styles of hiking boots perfected by Vasque and conceivably their most popular model for a number of reasons. While the boot may look simplistic in its design, it offers support and durability than rivals any of its competitors in the medium-duty hiking category.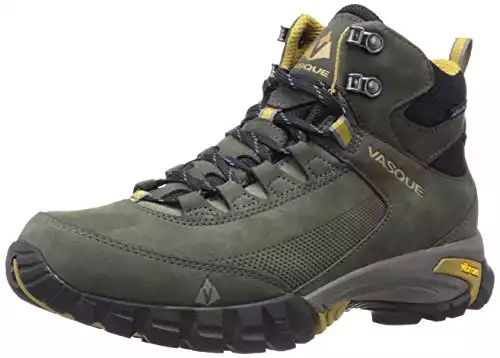 Basic Features of the Talus Ultradry
Here is a quick rundown of this boot's basic features and options:
Traditional over the ankle height for support on tricky and uneven terrain
Lace-up closure to ensure a snug fit
Comes in both men's and women's sizing and width options- men's shoe from 7-14, widths 8-13 and women's shoe from 5-11, widths 7-10
There are 4 color options total, two for men's and two for women's
Men's shoe weighs 2lbs. 9oz.
Women's shoe weight 2lbs. 2oz.
Supportive enough for all types of hiking and light backpacking (under 25lb pack)
Waterproof
While the Talus may seem to have all the bells and whistles of many hiking boots, it's the construction that really makes it stand out from the rest.
Construction of the Talus UltraDry
The Talus has an all leather boot construction, with the upper being made of a strong but supple Nubuck leather (1.8mm thick). The boot also has sections of abrasion-resistant mesh on the tongue and around the ankle support for flexibility, comfort, and ventilation.
Despite the mesh, you don't need to be worried about wet feet. The entire boot is treated with Vasque's UltraDry Waterproofing System to keep you dry and comfortable.
As for the rest of the boot, you are sure to feel comfortable yet supported. The insole is a dual-density EVA followed by the midsole (that layer between the insole and bottom of the sole) made from an ergonomically molded polyurethane. Finally, the outermost sole is Vibram's Nusai and XSTrek Compound which will give you plenty of traction on any trail. The entire shoe is built on Vasque's Perpetuum last foundation.
The Talus UltraDry is made to last yet priced very reasonably see here for latest pricing making it a great hiking boot for those new to the hobby that are worried about buying low-quality introductory footwear due to budget constraints.
The durability of the Talus UltraDry
Overall the Talus UltraDry is a very durable boot, able to handle a lot of miles without failing. There are two areas that may lack durability, which are the leather upper and toe of the shoe. While Nubuck leather used in the construction will protect the shoe from a puncture from minor scrapes and brush, it is suede and therefore prone to blemishes.
Regular use on anything but groomed trails will leave the shoes with a patina-like finish which some find to be even more attractive in appearance than the new leather.
Since the Nubuck leather is only 1.8mm thick, sharp objects like a pointed rock, branch, metal or wire may penetrate it. This isn't uncommon with any type of boot but it is still something to consider.
One final durability concern of the Talus UltraDry is the lack of toe protection, specifically the lack of a toe rand. In case you aren't familiar with the term, a toe rand is a protective cap you see on many boots. While the lack of this cap gives the Talus a more streamlined, somewhat retro look because of the leather, it leaves the toe more exposed to damage.
As mentioned before about potential punctures or abrasions of the leather, these are most apt to happen on the toe. Since there is no toe cap you could damage the boot in an accident if you trip.
Comfort of the Talus UltraDry
Comfort is one of the most important aspects of a good hiking boot. Sore feet and blisters are sure to ruin an otherwise pleasant hiking trip. Not to mention that uncomfortable, ill-fitted boots can cause long-term damage to the feet and ankles. Thankfully the Talus is one comfortable piece of footwear, even right out of the box.
Some people find that their feet love the Talus UltraDry right away and don't require a breaking-in period. While this may be the case for many, it's always a good idea to go on short hikes to get comfortable with your boots before heading out for a day hike or overnighter.
Though this boot is considered to be a medium-duty hiking boot, it is extremely comfortable to wear for long periods of time and over difficult terrain. Both men and women find the boot fits the gender-specific differences in average anatomy very well- something that can be difficult for women to find.
Vasque's Perpetuum last in the women's shoe is specifically designed with women in mind so they will find the Talus to hold their feet securely in the heel and toe.
The shank of the Talus is stuff enough to provide plenty of support but is flexible enough to allow for unhindered, natural movement. This is another reason the boot is so versatile since many day hikers normally find stiff shanks to be uncomfortable on easy trails that don't require so much ankle support.
Aside from being able to take on various types of terrain, these boots also function well in various weather conditions. They are warm enough to be used in light snow and will also keep your feel cool in 90F weather thanks to the mesh in the upper. Despite sporting the UltraDry Waterproofing System, these boots allow moisture from sweat to escape very easily.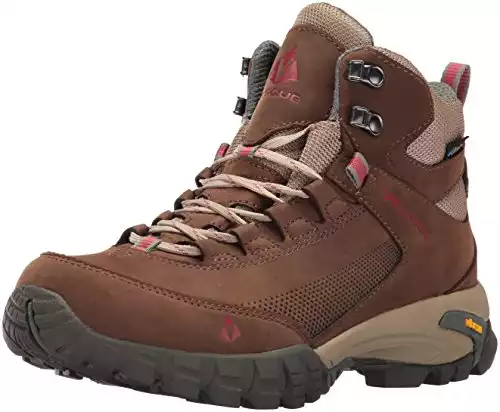 Should You Buy the Talus UltraDry?
Overall Vasque's Talus UltraDry is a perfect light to medium-duty hiking boot with the ability to also be used for light backpacking. The boot is visually very appealing thanks to the leather construction, which makes it stand out against so many other boots on the market.
It is especially ideal for women who are struggling to find gender-specific boots that will properly support and hug their feet. Those with very wide feet, particularly men, will be happy that these boots come in a variety of widths rather than just the two or three options so often seen.
If you are new to hiking or light backpacking you will find that the Talus is going to set you up for success right from the start. Unlike many other boots recommended to novice hikers, you don't need to worry about these being a wasted investment because they give out after a year of heavy use.
Long-time hikers and backpackers will also be equally pleased with this model if they are looking to replace their current boots or simply looking for a lighter duty boot for day hikes with family or friends.
There is a reason Vasque is such a trusted outdoor gear brand. The Talus UltraDry is a great example of craftsmanship, comfort, and durability all wrapped into one package.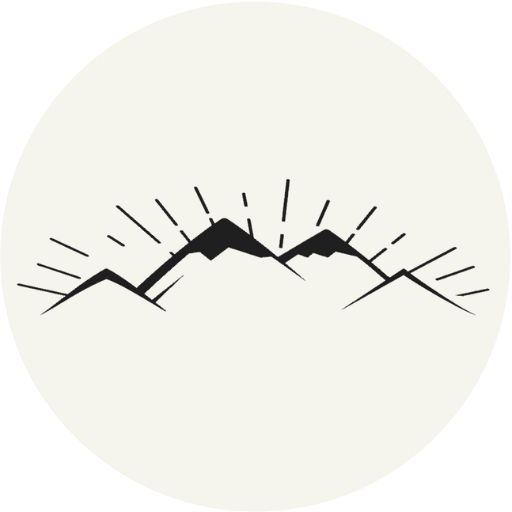 The All-Outdoors Guide team is comprised of enthusiastic experts that enjoy helping others that aspire to be better at outdoor fun. Part of that is making sure you have the right gear and information when it's time to go out and have fun. Some of our team have accomplished amazing feats like climbing 6000 feet to the top of mountains, others have explored every dirt trail they could find and we even have some people that have backpacked solo on various continents. No matter what our readers want to learn and do, our team is here to help them accomplish those goals.